Check out our Expeditions
---
INDIVIDUAL OFFERS AND FOR GROUPS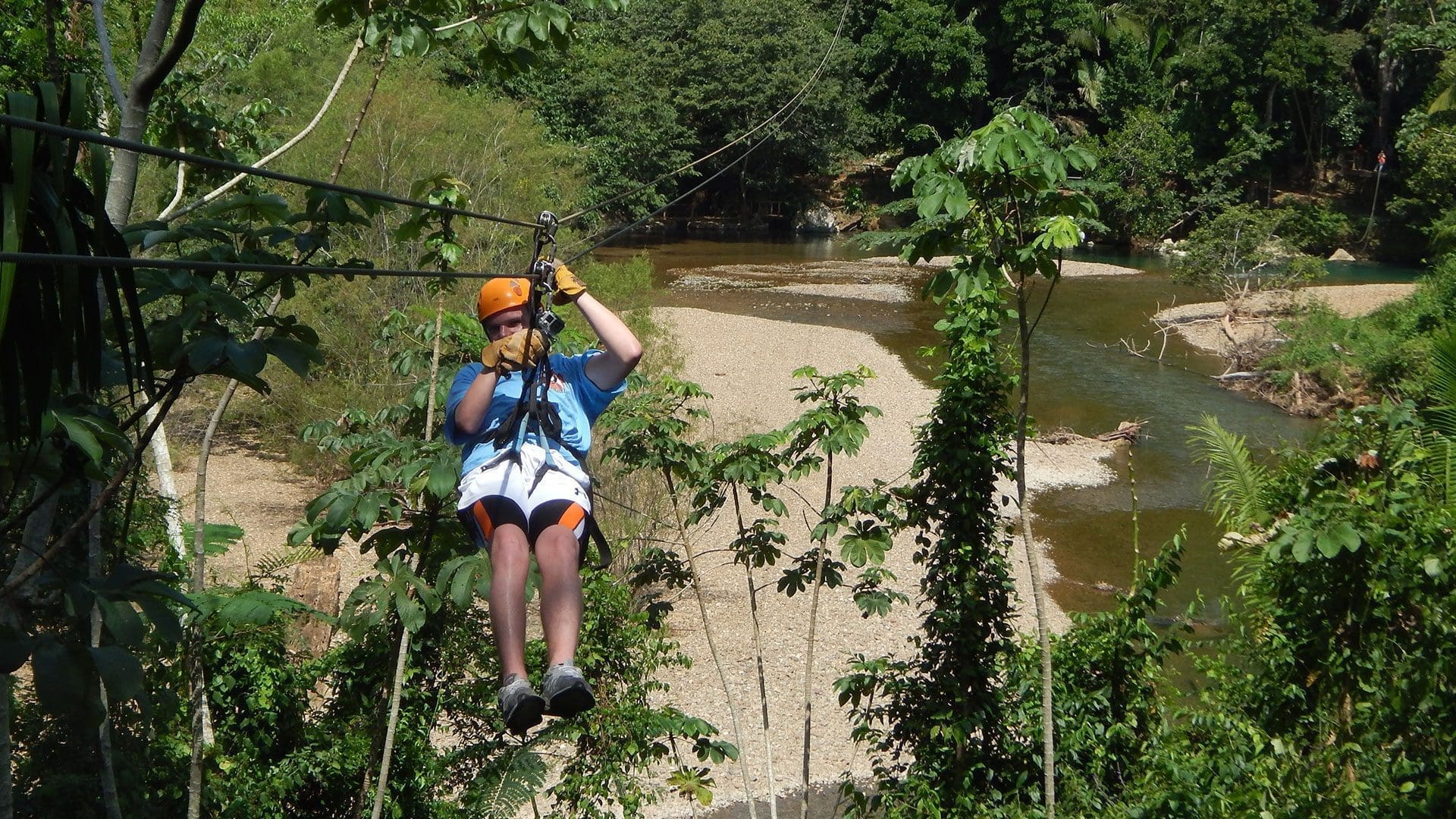 Overview
The Zip line tour is the most daring, challenging and heart racing tour, a must do tour! You make your way through the lush green rainforest to the platform where you will be geared with a seating harness, fastened to the traverse line. Lines are extended from as little as 400 ft to as long as 1,000 ft across the canopy of the rain forest. Within the course there are two, 2 minute hikes from lower to higher elevations which contribute to the highest point of 150ft in to the canopy for your mind blowing ride. There are a total of 6 lines with a different attraction at each. Don't think the fun is over there, this tour can be combined with other activities such as: horse back riding, kayaking, cave tubing, Belize zoo, or an ATV ride through the rain forest. Maya Sites such as Cahal Pech, or Xunantunich are included as well.
Travel Style: Classic
All of the highlights, culture, access, and I-can't-believe-we-did-that moments, all at a great price.
Service Level: Camping
Camping most nights with some hotel stays to start and throughout; affordable public and private transport.
Physical Rating: 5 - Challenging
Serious high-altitude hikes, cycling, or other instances of heavy exercise. Come prepared to sweat a bit.
Trip Type: Small Group
Small group experience; Max 14, avg 10
Age requirement: 12+
All travellers under age 18 must be accompanied by an adult.
What To Bring Along:
* Light Close * Reppelant *Tennie Shoe *Sun Screen Lotion *Waterproof Camera *Long Pants for riding
Tour Can Be Combined With:
Inland Blue Hole, Zip line, Horseback Riding Tipu, Horse Back Riding Mountain Riders, Horse Back riding Banana Bank, Cave Tubing, Belize Zoo, Xunantunich chocolate tour, Iguana Sanctuary, Extreme Zip Line Cave/Cliff Rappelling, BBQ at Aayalas Natural Pool,
Tour Includes:
* Water * Lunch * Equipment * Entrance fee to the site * Air condition Private Transportation * License Experience tour guide(experienced)